Sermons and Outlines


Audio Sermons


Study Tools


Great Links



How You Can Help


If you really want to be a blessing to this ministry, the best thing you can do for us to to pray for us on a daily basis. We need God's touch as we study God's Word and as we prepare and present the messages He gives.


Where We Are
Here is a map to Calvary Baptist Church in Lenoir, NC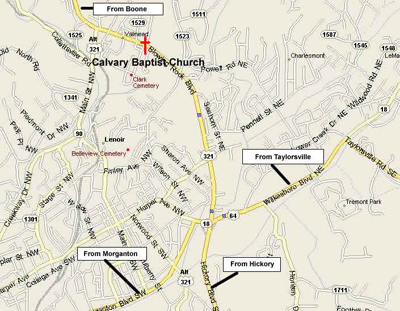 Calvary Baptist Church is very easy to find. We are located just over the hill past Wal-Mart on Highway 321 North in Lenoir!
Here is a link to Calvary Baptist Church at MapQuest.com. From here you can find us from your address. We are located at 1369 Blowing Rock Blvd. in Lenoir, NC.
Our Service Times
| | |
| --- | --- |
| Sunday School | 9:45 A.M. |
| Sunday Morning Worship | 11:00 A.M. |
| Sunday Evening Worship | 6:00 P.M. |
| Wednesday Evening Worship | 7:00 P.M. |
| Monday Men's Prayer Meeting | 7:00 P.M. |
| Sunday Youth Meeting | 4:30 P.M. |


News Items

Meetings and Travels

I will be preaching at The Brook Church in China Grove, NC, April 9-12, 2018. The Lead Pastor is Jon Harliss. The church is located at: 2290 S US 29 Hwy, China Grove, NC. Service begin at 7:00 PM.

Please join uis for meeting if you can. Please pray regardless.

---

The Sermon Notebook on DVD or Flash Drive

Please check out the DVD page if you are interested in obtaining a DVD, or if your are interested in obtaining the website, and thousands of additional sermons on USB flash drive.

New Resource Offer!

If you would like to receive my new sermons on a weekly basis, you can subscribe through Paypal using the button below. The cost is $60.00, which will purchase 1 year of weekly sermon updates. Once per week, all new sermons will be e-mailed to your inbox. With this new service, you will no longer have to wait until the web site is updated to have access to my new sermons.

Sermon Subscription: